A ROTATING DRUM THAT CAN SIMULTANEOUSLY MOVE UP AND DOWN THE X-AXIS
A high-performance level can be achieved with our RT collector, a compact and user-friendly machine which is ready to use and can be controlled through a WEB interface.




The roto-translational ability allows for both rotation up to 5000rpm and linear translation of up to 1000mm/s, with easy control through web interface.
🟢what kind of fibers do you get with this machine??
Whit our RT Collector not only will you be able to

create tubular structures

with horizontal axis of rotation up to 5000 rpm, but with the linear translation up to 1000 mm/s you can create

fibres with uniform thickness

, even with very short deposition cycles.
🟢What advantages do you get from using this machine?
RT Collectors offers a
wide set of customization deposition strategies
where movement and HV generators are synchronized. The use of brushless motors and a linear belt drive
avoids friction and vibration
, without the need of lubrication.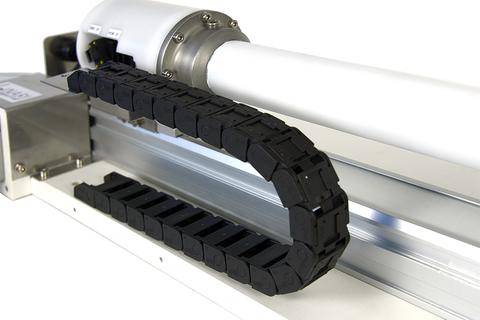 🟢What materials can you electrospin?
It is possible to electrospin
any type of synthetic, organic polymer or ceramic material
, starting from solutions at room temperature.
🟢What quality and quantity of nanofibers do you get?
You can create deposits of nanofibers with chaotic or perfectly oriented structure by simply changing the operative settings. The nanofibers are characterized by a high reproducibility over time and by a uniform thickness along the axis of the collector.




The result will be high quality fibers, produced in large quantities, up to 200 ml of solution per day.
🟠looking for a more scalable system?
Compared to a classic rotary collector, our Electrospinning Roto Translation Unit translates and rotates at the same time, in order to guarantee a uniform deposition of fibers along the collector.
Technical features of the device
Compact, easy to install, ready to use.

High level of performance

and integration with minimum size so it can be installed inside the hood.

Control with a color LCD screen or via PC with WEB interface.

High voltage up to 60 kV.

Multiple needle

s

or

Coaxial Needles

system.

Rototranslating collector for the use of pumps and standard syringes. Easy to replace flat or drum collectors, with 1 to 100 mm diameter, maximum length 150 mm.

Horizontal axis of rotation of the collectors up to

5000 rpm

, for the creation of tubular structures.
Control interface

: 5'' LCD + Web.
Linear speed: 0 - 1000 mm/s.
Rotary speed: -5000 to +5000 rpm.
Max drum diameter: 100 mm.
Max drum length: 150 mm.
Linear stroke: 0 - 200 mm.
Motor type: AC servo.
Collector max voltage: 50 kV.
High voltage generator control system: Analog signal.
Max number of connected HV generator: 2.
hv generator: available options
Output voltage range: 0...40 kV.
Maximum current rate: 0.375 mA.
Voltage precision: 0.1 kV.
Output voltage range: 0...60 kV.
Maximum current rate: 1 mA.
Voltage precision: 0.1 kV.
Technical advantages of the device
Unique

: what makes the RT Collector unique is its dielectric support allowing to connect it to a high voltage generator in addition to grounding, as usual.

Replacement of the collectors

: the selection of this configuration has the advantage of making the replacement of the collectors

(1 to 100 mm diameter, maximum length 120 mm)

easy and fast, thanks to the self-centering chucks.

No waste

: the loading of the syringes is done without wasting solution due to the absence of flexible tubes which connect them to the needles.

Silence

: the use of brushless motors and a linear belt drive avoid friction and vibrations, without the need for lubrication.

Second high voltage generator

: the collector is insulated from the ground so that it can be connected to a second high voltage generator up to a potential of +/- 60 kV.

High quality components

: all the materials used have been carefully selected to avoid interference on the electric field between collector and needles for maximum control of nanofiber deposition, avoiding waste due to dispersed material.

Reliability

: the use of Omron Electronics industrial components for the control electronics guarantees the maximum reliability of the system also under heavy use conditions.
Control system for the automatic interruption of production in case of blackout or malfunction.

Built-in safety limit switch to stop the high voltage in case the hood is opened.
Starter Kit

:

this kit guarantees high performances, remaining compact and user-friendly.

It can be installed as optional of existing electrospinning setup.

It can also be used as all in one solution including up to two

High Voltage Generators

(positive and negative polarity available).

It can be installed inside our

Electrospinning Station Hood

enclosure.