Regular price
$167.00 plus VAT
Regular price
Sale price
$167.00
Unit price
per
Sale
Sold out
Customizations Total: $0.00
Forget compromises: the ideal solution for Core-Shell electrospinning for any type of polymer, even in the most corrosive solvents.
Suitable for all electrospinning systems.
A NEEDLE FOR SPINNING TWO OR MORE SOLUTIONS SIMULTANEOUSLY
The sealed coaxial needles are manufactured in AISI 316 stainless steel and are assembled entirely by a laser welding process to guarantee maximum geometry precision and high levels of cleanliness in order to eliminate any risk of contaminating the solutions.
Two standard versions are available with two or three concentric layers, which can be customized upon request.

WHAT ADVANTAGES DO YOU GET FROM USING SEALED COAXIAL NEEDLE?
With coaxial needles, you gain the ability to
 

spin two or more polymers simultaneouslywithin the same fiber
. This can allow for the production of fiber with an
 

inner core and outer shell
. 
This may be useful for cases where the use of only one material may result in having to compromise between two material properties- for example, the mechanical strength of one material is desirable, but a different material shows a better degradation rate.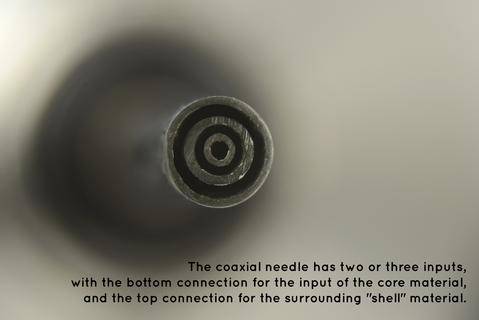 Thanks to the manufacturing material, it is possible to spin any type of polymer, even with the most corrosive solvents, at a temperature up to 120°C in standard configuration. 
These needles are very compact and make it possible to create
high productivity configurations
, since they can be
assembled in parallel
up to tens of units thanks to a simple, solid mechanical structure and the distribution of the solutions through standard Luer-UNF connections. The rear threaded hole permits both the fastening to the support structure and the stable connection of the high voltage.
The rear threaded hole permits both the fastening to the support structure and the
stable connection

 
of the high voltage.
LOOKING FOR A MORE VERSATILE SOLUTION?
In our Coaxial Needle Kit, every concentric needle is independent so that it can be equipped with a different diameter and be supplied with solutions of different materials through standard Luer Lock connections.

Complete set available as a kit for a special price.
Share
View full details