Regular price
$3,528.00 plus VAT
Regular price
Sale price
$3,528.00
Unit price
per
Sale
Sold out
Modular Coaxial Needle KIT is the ideal solution for Core-Shell electrospinning for any type of polymer, even in the most corrosive solvents.

Removable and interchangeable tips, easy to clean. 
IDEAL FOR CORE-SHELL ELECTROSPINNING
The modular coaxial needles are made of AISI 316 stainless steel and can be manufactured withtips of different diameters, also if not in the catalog. Thanks to their stable and accurate structurethey can also operate at high temperatures (up to 120 C) without geometric deformation orleakage of liquids or gas. 
The minimum configuration requires 2 concentric layers that can be disassembled or integrated at any time with a third external layer.

WHAT ADVANTAGES DO YOU GET FROM USING THIS KIT?
Every concentric needle is independent so that
it can be equipped with a different diameter and be supplied with solutions of different materials
through standard Luer Lock connections. All the  surfaces have been designed without dead spaces for
 

easy cleaning
. The closing system withscrews  guarantees
great simplicity of maintenance
. 
The perfect axial-symmetrical shape, guaranteed by the exclusive design with all the connectionsfor the fluids on the side behind that of the needles, and the perfectly smooth surface of the coaxialneedles ensure
 

an electric field of excellent quality to obtain a stable and accurate production ofnanofibers

 
also under difficult conditions.
WHY PREFERRING A MODULAR COAXIAL SYSTEM INSTEAD OF A SEALED ONE?
With coaxial needles, you gain the ability to spin two or more polymers simultaneously within the same fiber. This can allow for the production of a 
fiber with an inner core and outer shell
.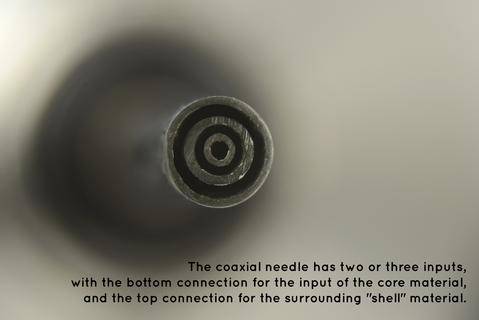 This may be useful for cases where the use of only one material may result in having to compromise between two material properties- for example, the mechanical strength of one material is desirable, but a different material shows a better degradation rate.
Compared to the Sealed Coaxial Needle-Kit, this modular solution allows changing tips according to your needs, being in that way along-lasting solution.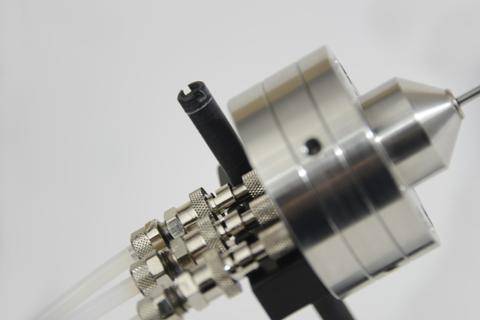 WHY PREFERRING A MODULAR COAXIAL SYSTEM INSTEAD OF A SEALED ONE?
The modular coaxial needles can be integrated with the Starter Kit, with the RT Collector, with the Easy Drum and withthe RT Advanced that have a number of pumps per syringe equal to the number of concentriclayers used.
WHICH ARE THE PRODUCTS INCLUDED?
DOUBLE LAYER COAXIAL NEEDLES WITH ADJUSTABLE DIELECTRIC SUPPORT
TRIPLE LAYER COAXIAL NEEDLES WITH ADJUSTABLE DIELECTRIC SUPPORT AND LUER POWER CONNECTORS
WATCH THE VIDEO TO FIND OUT HOW TO ASSEMBLE IT


Share
View full details