Electrospinning Roto Translation Unit is a high-tech system that combines the rotary and translation movement of the collector to create a uniform substrate of both random or aligned nanofibers, by simply changing the configuration.
OBTAIN FIBERS WITH UNIFORM THICKNESS
The system consists of an electrical control cabinet installed in an electrospinning chamber madewith insulating materials.

WHAT KIND OF FIBERS DO YOU GET WITH THIS MACHINE?
The system allows obtaining fibers with
both aligned and random structure
, depending on the  configuration.
WHAT ADVANTAGES DO YOU GET FROM USING THIS MACHINE?
Compared to a classic rotary collector, 
this system translates and rotates at the same time
, in order to 
guarantee a uniform deposition of fibers
 along the collector.
The device is supplied with aluminum cylindrical collectors. Thanks to the detachable mandrels of the rotary system,
collectors of different sizes can be mounted
. Besides giving you the possibility to work with collectors of different sizes, that gives you the possibility to
obtain tubular structures
,
avoiding the membrane cutting
to peel off the fibers.
It is also possible to install a
flat collector
in an easy way, by using the provided screws.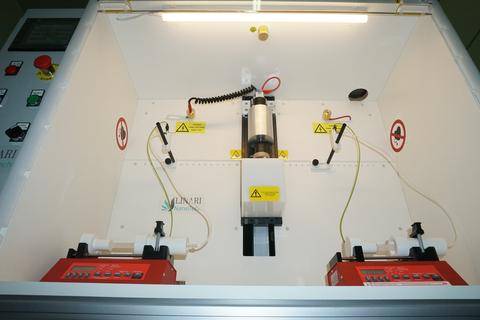 Configuration with rotary collector - speed up to 5000 rpm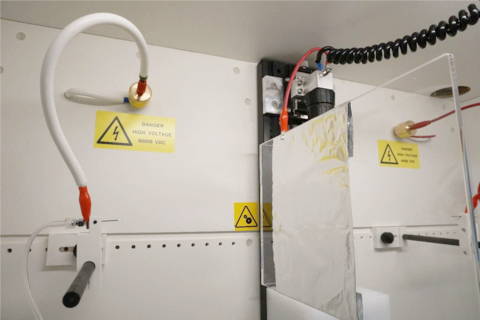 Configuration with flat collector
WHAT MATERIALS CAN YOU ELECTROSPIN?
With this unit, safe and ready to use, you can electrospin any type of organic, synthetic, or ceramic polymer.
WHAT QUALITY OF NANOFIBERS DO YOU GET?
Nanofibers are characterized by a high reproducibility over time and by a 
uniform thickness
 along the axis of the collector.
Output voltage range

: 0...40 kV.

Maximum current rate

: 0.375 mA.

Voltage precision

: 0.1 kV.
Station Hood Optional: None.
Pump: Local control.
Output voltage range

: 0...60 kV.

Maximum current rate

: 1 mA.

Voltage precision

: 0.1 kV.
Station Hood Optional: °C and humidity monitor + Heater / Aspiration System / Air Recycle System.
Pump: Syringe Pump Single/Double Channel and Remote Control.
Length: 1215 mm. 
Depth: 700 mm. 
Height: 2390 mm. 
Weight:150 kg max. 
Power supply:110/240V, 50/60 Hz, 6 A. 
Local interface:5" LCD panel (HMI interface), Emergency stop button, HV ON lamp, Reset button, Light switch, FANswitch, High voltage enable switch. 

ROTO TRANSLATION UNIT SPECIFICATIONS
Length

: 50 cm. 

Depth

: 18 cm. 

Height

: 14 cm. 

Weight

: 5 kg.
Rotation speed: +0...5000 rpm.
Translation speed: +0...600 mm/s.
Collector polarity: From grounded up to 30 kV.
Stroke of collector unit: 200 mm.
Installable collectors type: Plate/Drum.
Drum collector diameter: 1...100 (max mandrel grip diameter 12mm).
Drum collector lenght: 120 mm max. 
Spinning distance needle-collector: up to 250 mm.
Needle height range:6...160 mm.
Needles dielectric support: Single needle (Basic Configuration) - Coaxial/Mutiple needle (Optional Configuration).
STANDARD PRODUCTS INCLUDED
Length

: 40 cm. 

Depth

: 20 cm. 

Height

: 60 cm. 

Weight

: 20 kg.
Power supply: 230 V, 50 Hz, 10 A.
Maximum power: 2000 W.
Max. settable temperature: 50°C.

Relative humidity: 5 - 95%.
Max. working pressure: 100 kPa.
Safety system: Emergency stop.
VIEW TECHNICAL INFORMATION AT ANY TIME

Share
View full details